15 Dino Me Harmonium Sikhiye (Hindi)
by Ramavtar Veer (Publisher: Pustak Mahal)
Good book for the beginners.
Chapters are arranged from Day1, Day 2 to Day 15
First chapter on types of harmonium and how to use harmonium
Classical Indian music terms are explained in simple language
Includes songs with musical letter notation.
Concepts of Hindustani classical music (raga, tala and, thaat) are covered in detail in 15 Dino Me Harmonium Sikhiye (Hindi)
---
Learn to Play the Piano and Keyboard
by Nick Freeth
Step by step guide
Illustrated with clear photographs
Chapter on choosing the correct keyboard or piano
Includes chapters on the basic requirements to start playing simple tunes, learning the keyboard notes, middle C, sharps and flats, beats, finger positions and learning scales
With clear instructions, illustrated examples of finger placement and pictures, this self-teaching guide will help you to play the keyboard piano very easily.
"Learn to Play the Piano and Keyboard" will also assist you to understand and read music, how to practice chords and to learn more advanced techniques.
For book price and details:
---
---
The Right Way to Play Guitar
by Douglas J. Noble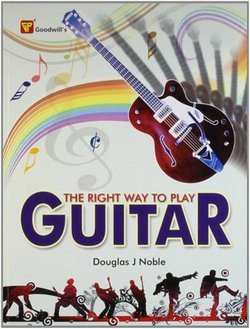 The Right Way to Play Guitar by Douglas J. Noble takes you-step-by-step from the very first notes, through the chords, to fingering and basic music theory.
This book assumes you have no musical proficiency and no previous experience of the guitar. Advice is also offered on choosing the right guitar for you.
Easy-to-follow musical examples with clear illustrations are given to help your progress with classical, acoustic or electric guitar.
A wide variety of styles are covered in this book including pop, rock, blues, folk, classical, jazz and country.
Guitar is one of the most challenging musical instrument to play. With this easy to follow book "The Right Way to Play Guitar", you can learn to play guitar along with all your favorite songs or even go on to write notes your own.
For book price and details:
---
Piano Notes for Songs
---
Piano Tutorial
---
Piano and Keyboards
Piano Keyboard List - Sorted and Arranged by Price and Keys