PSR-I425 has 514 Voices and 162 Styles, including 10 Indian Voices and 12 Indian Styles, and is loaded with new features such as sound control knobs that give the user real time control effects, filters, envelope generator and tempo.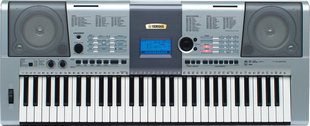 Features of Yamaha PSR-I425 Portable Keyboard
Realistic Sounds with Indian Voices and Styles
61-key touch response keyboard
514 Voices and 162 Styles
10 Indian voices, 12 Indian style
Sound control knobs for real time control
Arpeggio feature automatically generates chordbased phrases
Real-time pitch control with pitch bend wheel
Music Database: 300 song titles for quick keyboard setups
---
Specifications of Yamaha PSR-I425 Portable Keyboard
Keyboard/Polyphony
61 regular-sized touch sensitive keys and 32-note polyphony.
Amazingly Realistic Sounds
Yamaha's highly acclaimed Sweet! and Cool! Voices deliver incredibly natural and dynamic sound.
Use the Pitch Bend wheel, and hear these Voices–especially the Sax and Trumpet–truly come alive!
Cool! Voices reproduce the subtlest shades of the original sound of electric instruments. Sweet! Voices provide delicate nuances, such as the vibrato of wind and brass instruments.
Real-time Control Knobs
Two assignable knobs on the panel give you flexible, powerful real-time control of filter (Voice or Style), effect settings, sound envelope (Attack and Release) and style tempo.
Arpeggio
Tap into instant musical inspiration with the Arpeggio function!
It provides 50 different Arpeggio types that automatically generate useful patterns and phrases that change depending on the notes and chords you play.
Music Database plus External Files
You want to play music in your favorite style, but you're not sure how to select the best voice and style for the type of music you want to play … simply select the appropriate style from the Music Database. The panel settings will automatically be adjusted for the ideal combination of sounds and style!
Yamaha PSR-I425 allows Music Database files transferred from a computer or stored on a USB flash memory device. These files can be used in the same way as the internal Music Database.
Performance Assistant Technology (P.A.T.)
Play along with a song on the instrument's keyboard and produce a perfect performance every time … even if you play wrong notes! All you have to do is play on the keyboard–alternately on the left- and right-hand ranges of the keyboard, for example–and you'll sound like a pro as long as you play in time with the music.
Portable Grand Button
Playing piano is fast and easy with Yamaha's Portable Grand function. One dedicated button brings up a great sounding piano, stunningly rich and authentic in its sound as well as setting up the keyboard to play as a piano.
Yamaha Education Suite (Y.E.S.)
Yamaha Education Suite (Y.E.S.) is an advanced set of helpful learning tools built into the instrument, letting you teach yourself how to play and perform. Y.E.S. helps you master a song with easy lesson steps. Each lesson can be done in isolation with either your left hand or right hand, or both.
USB to Host Terminal
Dive in and take advantage of the wide world of computer music software. Connections and setup are exceptionally easy, and you can play back your computer recorded parts with different instrument sounds – all from a single instrument.
Digital Music Notebook (DMN)
Digital Music Notebook (available as a free download) is a major new multimedia platform for music learning and performance. Download your favorite music selections and enjoy full notation, MIDI/audio playback and comprehensive control — within a single application. Purchasing contents using the Digital Music Notebook software requires a valid credit card.
XGlite Tone Generator
Best sound, widest compatibility. The built-in tone generator handles virtually any MIDI song file–from commercially available music data to songs created on computer or other MIDI instruments. Naturally, it plays back conventional GM song data, but it also is compatible with the enhanced XGlite format, ensuring high sound quality.
Piano Notes for Songs
---
Piano and Keyboards
Piano Keyboard List - Sorted and Arranged by Price and Keys