Features of Casio CTK 2550
With 61 keys, 48 polyphony, 400 tones, 100 Rhythms and 50 dance music rhythms, the Casio CTK 2550 makes it easy to enjoy various musical genres.

Features Summary
Piano style keyboard with 61 keys
Powerful lesson functions with

Voice Fingering Guide
Metronome

Learning keyboard made easy with

Chordana Play App connectivity
Dance music mode

to create and remix dance music quickly and easily.
Sustain pedal jack,
Auxiliary in and Phones out
LCD display
48 Polyphony
400 Tones (13 Indian)
100 Rhythms (12 Indian)
100 One Touch Presets
50 Dance Music Rhythms
60 Song Bank Tunes
30 User Song Banks
---
Piano Style Keyboard with 61 Keys
An easy-to-play keyboard with an appearance resembling that of an acoustic piano.
CTK-2500/2550 features 61 Piano Style Keys with a 48 note Polyphony.
---
Learning Keyboard Made Easy with Chordana Play
Chordana App
Connect to your Android or iOS device to use the free Chordana Play app, which uses the CTK-2550's display to show you how to play your favorite songs.
Just download your favorite MIDI files, connect your device's headphone output to the CTK-2550's audio input, and explore an endless library of music.
You can even transfer songs to the keyboard, and learn them when your device isn't connected (some file limitations apply).
Practice anytime and anywhere with the help of Chordana Play App.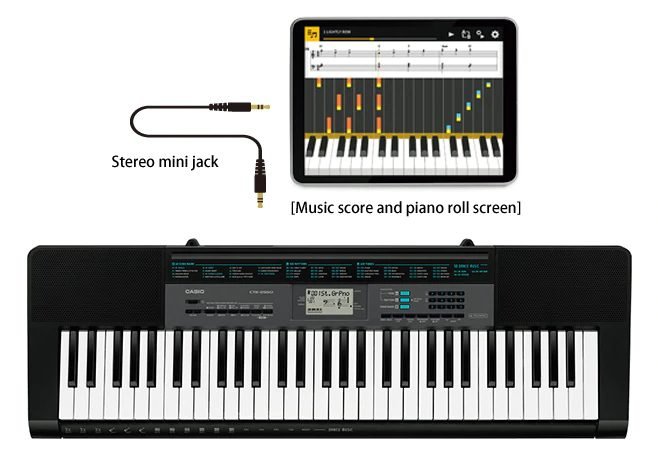 Use an audio cable to connect your smart keyboard to a mobile/tablet and practice any song by downloading and using its MIDI File.
This feature is availabie in CTK-2550, CTK-2500, LK-265, CTK-3500
---
Expand the Keyboard's Store of Built-in Songs
Use an audio cable to transfer 50 built-in songs from the app as well as songs downloaded as MIDI files and save them in the keyboard.
You can then use the saved song data with the keyboard accompaniment function to enjoy the Step Up Lesson feature.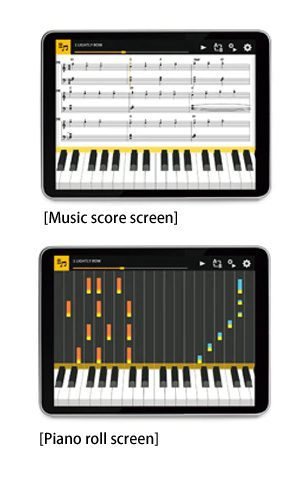 Practice Playing on the Smartphone Screen
Another fun feature is the ability to take 3-step lessons on the smart devices like mobile, tablet using the virtual keyboard that appears on the screen.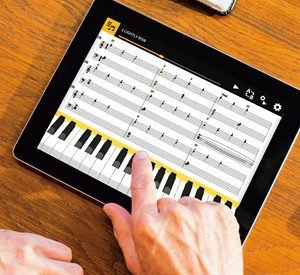 You can confirm the chords, melody and finger timing visually on the screen, while also using the scoring function to help you master the song.
The 50 built-in app songs and your downloaded MIDI file songs are all available for use in your lessons.
---
---
Dance Music Mode
The CTK-2550's all-new Dance Music Mode lets you create and remix electronic dance music quickly and easily.
Select from 50 styles of EDM, and use the lower keys to choose different variations of drum beats, bass lines, and synth parts.
You can even add filter, flanger, gate, roll, low-fi, and other effects to spice your tracks up even more.
Easy dance tune playback
Just touching the keys is all it takes to play dance music expressing a DJ mood. Or you can use Build-up Play to apply sound effects characteristic of dance music for even more fun.

This feature is available in CTK-1550, CTK-1500, CTK-2550, CTK-2500, CTK-3500, LK-265, LK-190, LK-136, LK-135
Built-up Play
Pressing the indicated black keys livens up the music with six dramatic sound effects.
Create modern music
Create your own musical sounds by combining phrases you select from 4 parts at will. Further add build-up effects to boost your performance
---
Powerful Lesson Functions
Lesson Lite
In the Lesson Lite, notes appear on the display screen.
Voice Fingering Guide
If the keyboard senses that you are having problems, it will help you by calling out finger numbers in a simulated human voice.
So, play notes in accordance with the instructions provided by Voice Fingering Guide.
Lesson Part Select
You can select lesson part to even practice with one hand at a time. Right hand, left hand or both hands
Metronome
Metronome means click or other sound at a regular interval that can be set by the user, typically in beats per minute (BPM). It helps to practice playing to a regular pulse.
Practise with metronomes help musicians to improve their timing, especially the ability to stick to a regular tempo.
Metronome feature in Casio CTK 2550 produces steady rhythm, so that you can practice your rhythm, tempo and time-keeping.
60 Song Bank Tunes
Built-in songs cover a wide range of genres for lesson play and for your listening enjoyment.
The CTK-2550 will instruct you in playing the 60 built-in songs phrase by phrase at your own pace.
---
400 Tones, 100 Rhythms and 100 One Touch Presets
400 High quality Tones
Explore the 400 Tones and find an incredible variety of life-like instruments that go far beyond your expectations.
A wide selection of musical instrument tones supports play of songs from various genres.
100 Rhythms with Auto-accompaniment
With 100 Rhythms you'll always have a band ready to jam.
100 rhythms and Auto Accompaniments for Latin music and other styles from around the world (100 rhythms including 46 ethnic rhythms and 10 patterns for piano play)
An advanced Auto Accompaniment feature provides you with access to a large collection of ethnic rhythms from around the world, with a special emphasis on Latin rhythms. In addition to Bossa Nova, Samba, and other basic rhythms, you also get Cumbia, Reggaeton, Calypso, and more!
One Touch Preset (100 presets)
One Touch Preset automatically sets up the keyboard to match the currently selected rhythm.
Digital effects
Use digital effects to add reverb for more depth and breadth in your music.
---
Designed to Help You Sound Your Best
Sustain Pedal Jack
CTK-2500/2550 comes with an input for a sustain pedal which enables more realistic and satisfying piano sound.
Auxiliary In, Phones Out
One can even play along with music via a 3.5mm audio input or practice quietly with the help of 6.5mm headphones out.
LCD Display
The CTK2500/2550 is incredibly easy to use with its big & clear LCD display which helps you learn both music notation and clear hand positioning.
The intuitive control panel allows you to just start playing without facing any complexities. Its as simple as ready set go.
2W+2W speaker output
With the combination of 2W+2W amplifiers and high quality Casio Tones, one can enjoy powerful and realistic sounds
---
---
Specifications of Casio CTK 2550
Keyboard:
61 piano-style keys
Maximum Polyphony:
48
Tones:
400 built-in tones
Digital Effects:
Reverb (10 types),
Virtual Hall,
Dance Music Effect
Rhythms/Patterns:
100 built-in rhythms,
50 Dance Music rhythms
Lesson Function:
Lesson Lite
Repeat
Lesson Part Select (Right hand, Left hand, Both hands)
Performance evaluation
Voice fingering guide
Connection to App:
Yes
Auto Accompaniment:
Modes:
CASIO Chord, Fingered 1, Fingered 2 (6th off), Fingered 3 (on bass), Full Range Chord
Controllers:
Start/Stop, Intro, Normal/Fill-in, Variation/Fill-in, Synchro/Ending
Built-in Songs:
60 (Song Bank)
Metronome:
Beats: Off, 1 to 9 (Tempo range: quater note = 20 to 255)
Other Functions:
Dance Music Mode
One Touch Preset: 100 sets
Rhythm/Song Bavk controller
Key Transpose:
±1 octave (-12 to 0 to +12 semitones)
Tuning Control:
A4 = 415.5 to 465.9 Hz (Initial Default: 440.0 Hz)
Pedals:
Standard jack (sustain, sostenuto, soft, rhythm)
Speakers:
10cm x 2
Amp Output:
2W+2W
Input/Output Terminals:
HEADPHONES/OUTPUT (standard stereo jack)
SUSTAIN/DAMPER
AUDIO IN
External power (9.5V DC)
Power Requirements:
Batteries: AA-size x 6
AC Adaptor: AD-E95100L
Dimensions (W x D x H):
946 x 307 x 92 mm
Weight:
3.3kg (Without batteries)
Body Color/Finish:
Black
Included Accessories:
Music stand
---
Casio Keyboard / Casio Synthesizer
Piano Notes for Songs
---
Piano and Keyboards
Piano Keyboard List - Sorted and Arranged by Price and Keys