The Casio LK-S250 is a 61-key keyboard designed with lighting keys to help beginners in learning and playing music in a fun and easy way.

It also has features like touch-responsive keys, 400 tones, 77 rhythms, USB-MIDI, Step Up Lesson function and others.
But the most important and useful feature of Casio LK-S250 is the "Lighting Keys".
The lighting keys feature is an interactive learning system, which can be helpful for those who are just starting to learn how to play the keyboard.
We have covered "how lighting keys can you help with the learning process" in detail after the features section.
In short, how lighting keys help –
The lighting keys are integrated with the Step Up Lesson function. The illuminated keys show you which notes to play next in the song.
means, it guides you by lighting the next key to play while using the Step Up Lesson function. So, even the beginners can play the song by following the lighted keys.
---
What are the Key Features of Casio LK-S250?
The Casio LK-S250 is a 61-key portable keyboard with variety of features that make it a great choice for beginners, including:
Touch-Sensitive Keys
The keyboard has touch-sensitive keys, which means the volume and sound will respond to your playing dynamics. Pressing the keys softly produces a quieter sound, while pressing them with more force results in a louder sound, adding expressiveness to your performances.
Lighting Key System
The Casio LK-S250 features a lighting key system that illuminates the keys as you play along with built-in songs or practice exercises. This system helps beginners learn how to play by visually guiding them through the correct notes and finger positions.
Sound Library
The Casio LK-S250 is equipped with 400 tones, 77 rhythms with a variety of instrument sounds, including pianos, electric pianos, strings, synths, and more. There are a variety of tones and rhythms to choose from, so you can find the perfect sound for your music. It also allows you to explore and experiment with different tones and timbres while playing.
Lesson Function
The keyboard come with a built-in lesson function to help beginners learn how to play various songs. The lighting key system is likely integrated into the lesson function, providing step-by-step guidance through the learning process.
Connect to Chordana Play
You can connect Casio LK-S250 to Chordana Play iOS/Android app for lessons and more. The Chordana Play app allows you to access a variety of learning tools, including step-by-step tutorials, MIDI files, and more.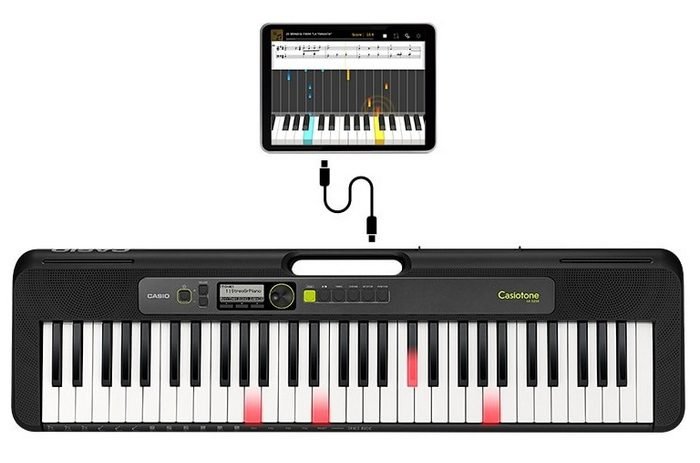 Built-in Songs
The Casio LK-S250 also has built-in 60 songs that you can play along with, practice, and enjoy. These songs can be used in combination with the lighting key system for interactive learning.
Dance Music Mode
The keyboard lets you create your own dance music by combining drum, bass, and synthesizer phrases. You can also choose from 12 types of dance music that sound great with this mode. Just press along with the rhythm to add accents and have fun. This mode is also a great way to experiment with different sounds and create your own unique music.
USB, MIDI Connectivity Options
The Casio LK-S250 include connectivity options such as MIDI and USB connectivity, allowing you to connect the keyboard to a computer, smartphone, or tablet. This enables you to use music software, record your performances, or play along with digital music files.
Easy to Use Interface
The keyboard has a simple and intuitive interface with a full dot LCD screen and a dial. It has a home button that lets you return to the original screen at any time.
Great Sound Quality
The keyboard uses 13 cm x 6 cm oval speakers with strengthened magnets that deliver surprisingly great sound for such a small instrument. It also has an additional function that optimizes the equalizer that adjusts the sound balance according to the volume level. You can explore 400 different tones and 77 rhythms with full accompaniment, plus 10 types of reverb effects.
Portable Design
The keyboard has a compact and lightweight design, making it easy to carry and play anywhere you go. This feature is convenient for musicians who want to take their keyboard with them to lessons, gigs, or rehearsals.
Built-in Metronome
The keyboard has a built-in metronome, which is a valuable tool for practicing rhythm and timing. The metronome helps you stay in time while playing and improves your overall sense of musical timing.
---
Complete List of Features of Casio LK-S250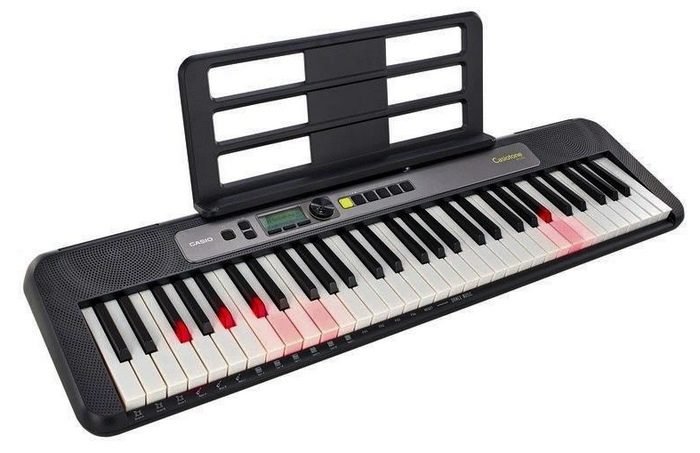 Following is the complete list of features of Casio LK-S250 as mentioned on the Casio Website.
Number of Keys – 61
Touch Response – 2 sensitivity levels, off
Maximum Polyphony – 48
Number of Tones – 400
Number of Rhythms/Patterns – 77
Automatic Accompaniment – Yes
Built-in Songs – 60
Lesson Function – Step Up Lesson, Scoring System, Next Tone Guide, Part Select (Right hand, Left hand, Both hands)
Built-in speaker – You can play the keyboard without headphones or an amplifier.
Amplifiers – 2.5W + 2.5W
Power Supply – 2-way
[Batteries] AA-size alkaline batteries x 6
[AC Adaptor] – AD-E95100L (DC 9.5V)
Power Consumption – 5.5W
Dimensions – 930 x 256 x 73 mm (w/o music stand)
Weight – 3.4 kg
LCD and Auto Power Off
Effects – Reverb (10 types, off)
Transpose – -12 semitones ~ 0 ~ +12 semitones
Tuning Control – A4 = 415.5 Hz ~ 440.0 Hz ~ 465.9 Hz
One Touch Presets – Yes
Metronome – 0 to 16 beats; tempo range: 20 to 255
Input/Output Terminals
USB port – micro B
Audio In – Stereo mini jack
Mic In – Standard jack
Pedal – Standard jack
Phones/Output – Stereo mini jack
MIDI Connectivity – Yes (Using the USB port): GM level 1 compatible
---
How Lighting Keys Make Learning To Play Music Easy
Here's how the lighting keys help with the learning process:
This Lighting Key System is designed to illuminate the keys as you play along with the built-in songs or practice exercises. They provide a visual cue for the next note to play.

Visual Cue
When you select a song or lesson on the keyboard, the keys associated with the notes of the melody or chords will light up. This visual cue helps you identify which keys to press and when to press them, making it easier to follow along with the music.
Step-by-Step Learning
The lighting keys often work in tandem with the built-in lesson function. As you engage in the lesson mode, the keyboard may guide you through a song in smaller segments. Each segment might focus on a specific melody, chord progression, or technique. The lighting keys will show you which notes or chords to play for each segment, allowing you to learn the song step-by-step.
Feedback and Correction
As you play along with the illuminated keys, the keyboard's learning system can provide feedback on your performance. If you press the wrong key or miss a note, the keyboard may indicate the mistake, allowing you to correct it and improve your accuracy.
Rhythm and Timing
The lighting keys can also help you develop a sense of rhythm and timing. By following the illuminated keys at the right pace, you can learn to play in time with the music, which is crucial for musical performance.
Repetition and Practice
The lighting keys encourage repetition and practice. As you work through the lessons and songs, you can repeat sections as needed until you feel confident playing them accurately. This repetitive practice is essential for mastering new music skills.
Motivation and Engagement
The interactive nature of the lighting keys can make the learning process more engaging and fun, especially for beginners. It provides a sense of achievement as you successfully play along with the lit keys and progress through the lessons.
What are the Pros and Cons of the Casio LK-S250?
Pros of the Casio LK-S250 are –
Lighting Keys, Step Up Lesson Function
USB-MIDI Connectivity, Chordana Play App connectivity
Easy to use interface
Portable and affordable
Variety of features for the beginners.
The Casio LK-S250 is a great choice for beginners who are looking for a fun and easy way to learn to play music. It is also packed with features that make it both educational and entertaining.
Conclusion
Overall, the Casio LK-S250's lighting keys are a great way to help beginners learn music. They provide a visual cue for the next note to play, and they are integrated with a variety of learning tools that can help you to learn the basics of music theory and sight reading.
The lighting keys offer an intuitive and supportive learning experience for beginners, helping them build a solid foundation in playing the keyboard.
However, it's important to note that while the lighting keys can be a valuable learning tool, they should not be relied upon solely. To become a proficient musician, it's essential to complement the visual guidance with traditional music education, ear training, and regular practice.
---
Casio Keyboard / Casio Synthesizer
Piano Notes
---
Piano and Keyboards
Piano Keyboard List - Sorted and Arranged by Price and Keys