Casiotone Mini Keyboard SA-50
For Casio SA-50 Review in Hindi, please visit –
Casiotone SA-50 Hindi Review
---
The Casio SA-50 is a new mini portable keyboard released in 2022 by Casio in the mini keyboard category.
Earlier Casio SA-47 and SA-46 were the best selling models in mini portable keyboard category.
It looks similar to SA-47, but has some additional features like transpose, metronome, tuning, octave shift and others.
It is a part of Casio's SA series, which is known for its compact size and simple features. The SA-50 features a small keyboard with 32 mini keys and is powered by batteries or an AC adapter.
---
Why Casio SA-50 is called Mini and Portable Keyboard?

Mini Keyboard – Because Casio SA-50 has only 32 keys as against the 61 or 76 keys in the standard keyboards.
Portable Keyboard – Because of its small size and lightweight, it is easy to carry, easy to transport and does not require a lot of space to set up.
---
Casiotone Mini Keyboard SA-50 with Piano tones
The Casio SA-50 is a 32-key mini keyboard that is designed for beginners with variety of features that make it easy to learn and play.
It features 100 built-in tones, 50 rhythms, and 10 built-in songs.
The SA-50 also has a built-in metronome and octave shift function. It can be powered by batteries or an AC adapter.
The SA-50 has a simple and intuitive interface that makes it easy to find the features you need.
The SA-50 also has a built-in speaker, so you can play without headphones and the sound quality is good for a keyboard in this price range.
So, Casio SA-50 is a great option for beginners or anyone looking for a portable keyboard.
---
What are the Key Features of Casio SA-50?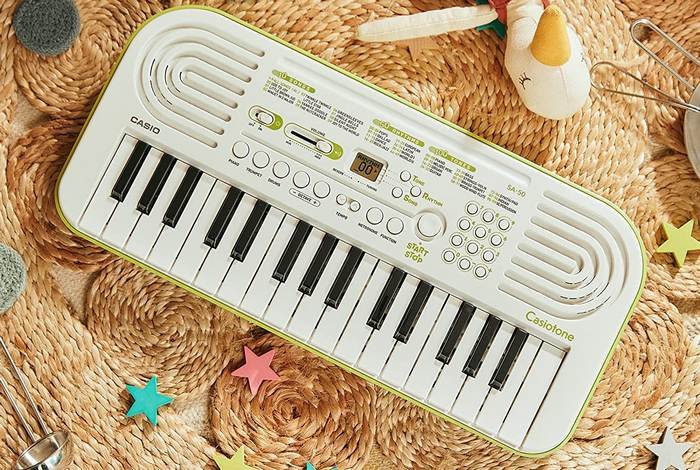 Here are some of the key features of the Casio SA-50:
32 mini keys – 32 mini keys make it easy to play, even for small hands.
Dedicated tone buttons – The SA-50 has dedicated tone buttons for popular tones like piano, trumpet and drums so that you can easily switch between the tones.
100 built-in tones – 100 high-quality built-in tones covering a range of instruments, including piano, wind, percussion and many others, sampled from acoustic instruments
50 rhythms – 50 rhythm patterns in a variety of genres, including pops, ballad, dance, and more
10 built-in songs – 10 built-in songs to play along with and get things started, or mute the melody and play it yourself
Reverb – Adds a reverberation effect to the sound for a broader range of musical expression,
Metronome – Metronome is useful for practicing playing at a constant tempo.
Transpose – The transpose feature can help you to raise or lower notes in semitone steps.
32 note Polyphony – The sound source from the Casiotone and the 32 note polyphony ensure good sound quality.
Tuning – Adjust the tuning in 1Hz increments to match other instruments or vocals.
Easy to use interface – The SA-50 has a very intuitive and easy to use interface for kids with clear LCD display and dedicated buttons.
Built-in speaker – Dual Speakers (0.5W + 0.5W)
Headphone output – The SA-50 comes with a 3.5mm jack to connect headphones so that you can practice and play in peace.
Simple and intuitive interface
Good sound quality
Lightweight and portable
Affordable price
---
What are the Pros and Cons of the Casiotone SA-50?
Pros of the Casio S50 are – easy to use, portable, affordable and variety of features for the beginners.
The Casio SA-50 is a good choice for beginners who are looking for an easy-to-use and portable keyboard. It has a variety of features that can help them learn to play the keyboard, and it is lightweight and easy to carry.
The mini keyboard is very user-friendly and easy to understand, even for those with minimal music background or experience.
The only cons are small keys and not as many features when compared to standard Casio Keyboards that has 61 Keys like MIDI output, USB input etc.
---
Conclusion
Casiotone Mini Keyboard SA-50 offers a variety of advantages that make them an ideal option for aspiring musicians, beginners or those who want to bring their music on the go.
This portable electronic keyboard is lightweight and compact, making them easy to transport or store in limited spaces.
So, if you are looking for a great beginner keyboard or a portable keyboard that is easy to use and sounds good, the Casio SA-50 is a great option.
---
Casio Keyboard / Casio Synthesizer
Piano Tutorial