The Yamaha PSR-F50 is designed with functionality that is both user-friendly and straightforward. This keyboard has both Indian voices and styles to add to the creativity and skills of the Indian musician.

Features of Yamaha PSR-F50 Portable Keyboard
61 full size keys
120 voices
30 songs
144 accompaniment styles
Headphone socket
Specifications of Yamaha PSR-F50 Electronic Keyboard – Portable
Simple, straightforward and user friendly
Keyboard that anyone will find easy to operate and play.
It can be operated in a simple, intuitive fashion, even if you have never read the manual. Just select a voice, choose a rhythm, and start playing your favorite song notations.
Despite its compact design and lightweight body, the Yamaha PSR-F50 packs in a regular size keyboard together with 120 voices and 114 rhythms from all over the world.
This portable keyboard is ideally suited to a wide range of different playing scenarios – not only is it great for beginners and students, but you can also power it with batteries for outdoor musical performances.
Indian Voices and Styles
8 Indian Instruments in voices and 10 Indian styles with incredibly realistic and dynamic sound.
Indian Instruments include – Harmoniums with single/ Double and three reeds, 2 types of Sitar, Shehnai, Tabla and Indian Percussion Kit
Styles to accompany your music Includes – Bhangra, Qawwali, Bhajan, Dandiya, Kerala, Rajasthani, Bolly Mix, Indian Pop, Indy waltz and Hindi Ballad.
Voices and styles from all over the world
120 Voices – 114 Styles!
While the PSR-F50 may boast functions that are very easy to use, its sounds are to the highest Yamaha standards.
In addition to pianos, keyboards, and many other classic instruments, the keyboard also features distinctive traditional instruments from all over the world.
Powerful sound
In order to support performing in a wide range of different situations, the keyboard's 2.5-watt stereo amplifier delivers quite a punch.
Combined with high-quality Yamaha voices, this allows you to enjoy the realistic sound of acoustic and electric instruments in addition to ethnic instruments from many different nations and regions.
Metronome and Duo mode
In addition to a metronome for use when practicing, the PSR-F50 also offers a Duo mode
Duo mode of Yamaha PSR-F50 allows two people to play together on the same instrument. This can be very useful when performing live and also during lessons.
Headphones output jack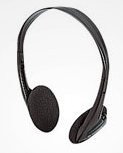 You can use this jack not only to practice without disturbing others but also to connect the instrument to the sound system when playing on-stage. (Headphones: No Bundled)
Also runs on batteries
In situations where AC mains power is not available, the PSR-F50 can be operated using batteries instead.
It requires six 1.5-V AA size batteries, which can be either rechargeable (1.2V Ni-MH rechargeable batteries or equivalent) or non-rechargeable.
Music stand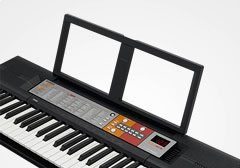 The electronic keyboard comes complete with a music stand for holding the music sheet.
Technical Details of Yamaha PSR-F50 Portable Keyboard
Item Weight 4.7 Kg
Product Dimensions 100 x 37 x 14 cm
Item model number PSR-F50
Colour Black
Number of Keyboard Keys 61
Audio Wattage 15 Watts
Power Source dc
Voltage 120 Volts
Yamaha PSR-F50
While developing this keyboard's full set of basic functions, Yamaha focused squarely on performing part of the keyboard. Thanks to this approach, the Yamaha PSR-F50 is simple and very user friendly keyboard. Using the intuitive panel, simply select a voice and rhythm to start playing and having fun.
---
Keyboards – Synthesizers
Piano Notes
---
Piano and Keyboards
Piano Keyboard List - Sorted and Arranged by Price and Keys