Banjaara (Ek Villain) Keyboard Notes – Jise Zindagi Dhoondh Rahi Hai
For Banjaara – Jise Zindagi Dhoondh Rahi Hai Notes as Western or Indian Notations, Click –
Western – CDE FGAB
Indian – srg mpdn
Hindi – सारेग मपधनि
---
Keyboard Notes for Banjaara (Ek Villain) – Indian Notation (srg mpdn)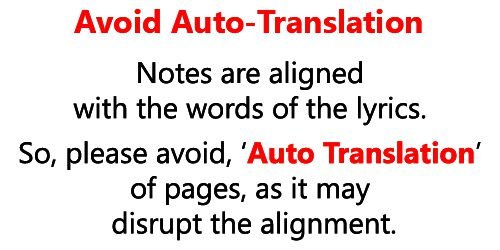 ---
---
Tips to play the song
Notes that are given in bracket like (notes) – play those notes continuously.
~ – wave like symbol after a note – sustain that note.
~~ – 2 wave symbol – sustain or press that note for longer.
For space between notes – 
If there is a space between 2 notes, then play those notes seperately.
IMPORTANT – (But ignore spaces in the bracket)
---
Part 1
Jise zindagi dhoondh rahi hai
Kya ye woh makaam mera hai
Yahaan chain se bas ruk jaaun
Kyun dil ye mujhe kehta hai
---
Notes for the first 3 lines are same.
(dN s*~)    (r* g* r*~)      (s* Ns* Nd~)
Jise  zin_   dagi dhoon_ dh rahi hai
(dN s*~)  (r* g* r*~)      (s* Ns* Nd~)
Kya ye     woh makaa_ m mera hai
---
(dN   s*~)          (r* g* r*~)  (s* Ns* Nd~)
Yahaan chai_   n se bas   ruk jaaun
(dN  s*~)  (r* g* r*~)   (r*s*m*g* g* ~)
Kyun dil     ye mujhe    kehta hai
---
Part 2
Jazbaat naye se mile hain
Jaane kya asar ye huaa hai
Ik aas mili phir mujhko
Jo qubool kisi ne kiya hai
---
(g*m*p*~)  (p*m*g*~)  (g* r*m*g*g*~)
Jazbaa_     t  naye      se mile hain
(g*m*p*~) (p*m*g*~)  (g*r*m*g*g*~)
Jaane       kya asar    ye huaa hai
---
(r*g*m*~)  (m*g*r*)   (r*s*g*r*r*)
Ik aa_        s mili       phir mujhko
(Ns*r*)     (r*s* N~)   (dpNdd)
Jo quboo_   l  kisi      ne kiya hai
---
Part 3
Haan.. Kisi shaayar ki ghazal
Jo de rooh ko sukoon ke pal
Koi mujhko yun mila hai
Jaise banjaare ko ghar
---
d~~     (dd  Ndpm   p mgr~~)
Haan.. Kisi shaayar ki ghazal
(d  d  Nd p   mpm     g  r~  s~)
Jo de rooh ko sukoon ke pal~
---
(sg  g~ g~)    (s gg~  g)
Koi mujhko, yun mila   hai
Or
(sg  ggg)    (s  gg~  g)
sg    g~  gm g~    r   r~
Jaise banjaare   ko ghar
Or
sg     g gmm~      g   r
---
Part 4
Naye mausam ki sehar
Yaa sard mein dopahar
Koi mujhko yun mila hai
Jaise banjare ko ghar
---
Notes Similar to Part 3
(dd    Ndpm   pmgr~~)
Naye mausam ki_sehar
(dd  Ndpm     pmgr~~)
Yaa sard mein dopahar
---
Similar to earlier notes for koi mujhko, but in higher octave
(s* g*  g*g*g*)    (s*  g*g*~  g*)
Koi     mujhko,    yun mila   hai
s*g*   g*~  g*m* g*~  r* r*~
Jaise  banjaare       ko ghar
---
Part 5
Jaise koi kinaara
Deta ho sahaara
Mujhe wo mila kisi mod par
---
(ds* s*)       (s* r* g*~ s*~~)
Jaise ko_   i kinaara
(ds* s*)   (s* r* g*~ s*~~)
Deta ho  sahaara
s*s*      r*   s* r*  (g*m*g*r*s*)  r*~   s* s*~~
Mujhe  wo  mila   kisi~             mod   par
Or
s*s*   r*   s*r*    r*g*~ s*      r* s* s*
---
Part 6
Koi raat ka taara, Karta ho ujaala
Waise hi roshan kare woh shehar
---
(ds* s*)   (s* r* g*~ s*~~)
Koi raa_   t  ka taara
s*p*p*   (m*g*r* g* g*~~)
Karta     ho    ujaala
s*m* m*~  m*~  g*~  g*~
Waise      hi   roshan
r*s*N~   N    r* s* d
kare         woh  shehar
---
Part 7
Dard mere woh bhula hi gayaa
Kuch aisa asar huaa
Jeena mujhe phir se woh sikha raha
---
g*~    (g*r*g*)   (g*p*p*m*  m*g*m*)
Dar_ d  mere    woh bhula   hi gayaa
(m*p*d*~)   (d* m*p*~)  m* g*~~
Kuch ai_    sa asar      huaa
g*       (g*r*g*)   (g*r*g*)  s*
Jee_  na mujhe  phir se  woh
s*r*m*g*r* ~~
sikha__ raha
---
Part 8
Hmm.. Jaise baarish kar de tar
Yaa marham dard par
Koi mujhko yun mila hai
Jaise banjare ko ghar
---
Notes similar to part 3
d~~     (dd  Ndpm   p mgr~~)
Hmm.. Jaise baarish kar de tar
(dd  Nd p   mpm  g  r~  s~)
Yaa marham dard par
(sg  g~ g~)    (s gg~  g)
Koi mujhko, yun mila   hai
sg    g~  gm g~    r   r~
Jaise banjaare   ko ghar
---
Part 9
Repeat Part 4
(dd    Ndpm   pmgr~~)
Naye mausam ki_sehar
(dd  Ndpm     pmgr~~)
Yaa sard mein dopahar
(s* g*  g*g*g*)    (s*  g*g*~  g*)
Koi       mujhko,    yun mila   hai
s*g*   g*~  g*m* g*~  r* r*~
Jaise  banjaare           ko ghar
---
Keyboard Notes for Songs
---
Keyboard Notes for Bhajan
---
New and Updated Keyboard Notes
---
Keyboard Notes
---
Piano Notes
---
Piano and Keyboards